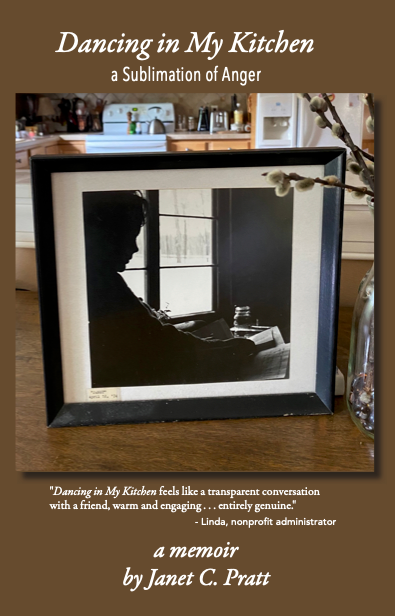 Dancing In My Kitchen: A Sublimation of Anger
Janet Pratt is a retired English Teacher and Counselor.  She's also a writer, poet, mom, wife, sister, and friend.
She's also my mother. That is not recommended for working with a client.  We both knew that going in.  Yet we decided to go ahead.  The pandemic had just started and we both wanted to stay connected.  And what better way to make the best of an awful situation. So we had a couple of Zoom lessons and off we went.
Mom is an Adult Child of an Alcoholic, mother of an alcoholic (so she is a lifetime member of Alanon), mother to a daughter who married an alcoholic, and, in her retirement years, an Alcoholic herself.
Her story needed to be told.  She wanted to write what she'd needed to hear throughout her life.
Zoom IT consultant
Connector to Talent
"Talk2Think" Idea sounding board
Publishing Advisor
Marketing Advisor
Daughter (!)
Janet has been writing since she was 7 years old and has dozens of journals, notebooks, and writings.  She began her memoir more than a decade ago. As an English teacher, she wanted to edit her own work.  She has promised me that, when we do this again, she will work with an editor!