Dancing in My Kitchen
A Sublimation of Anger
by Janet C. Pratt
An intimate glimpse at a life of living, learning, loving, struggling and surviving by writing & dancing in the kitchen.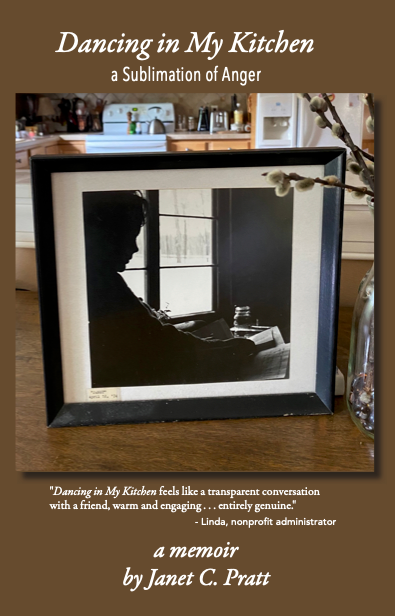 A Conversation with Janet about writing DANCING IN THE KITCHEN.
by Janet C. Pratt
Building a Book About One's Life
"Writing a memoir is much like remodeling our old cottage getting it ready for my retirement. There were many qualities of the place that I wanted to preserve, and some to modify, ultimately improving it and making it more comfortable, livable, and pleasing. And frankly some things I wanted to hide or cover up. But authentic is the word; a memoir needs to be honest, as does an old house.
"It is exciting to find something about a house that is old and still beautiful to want to preserve the best parts while enhancing the not-so-good parts, making them more functional. Like the faded, yellow brick fireplace that tumbled to the ground when my husband and I raised the cottage and set it on big timbers. Then we turned the old structure slightly to capture the best view of Lake Melissa and to make it fit on the lot. Certain guidelines had been set down that we followed, legalities, such as the distance from the lot lines and their proximity to neighboring wells and septic systems. We watched this carefully, not wanting to offend anyone by infringing upon other's property. Adjustments had to be made, for instance, so that our lot line would not run through our neighbor's kitchen. City fathers are very strict about these rules – unless you are very famous or very rich.
"We found out right away that the whole process (remodeling a cottage or writing a memoir) is an enormous project.
"The cottage was our plan for retirement, a place to live; and the memoir for my family was a dream emerging when I retired.
"House plans, photos, journals, diaries, and old notebooks beckoned us to dive in. We did. Tentatively, I began reading the notes from the past and soon saw that the task I had before me was much more than a record for my family.
"Women's issues, father figures, addiction problems, identity questions, and human relationships confronted me.
As those topics showed up as themes in my writing, I saw that there were bigger reasons for me to pursue the memoir idea…"
During the pandemic my daughter, Kelly and I put the final touches on my manuscript. I even learned how to Zoom! The book you see here is the result. Enjoy.
"Dancing in My Kitchen felt like a transparent conversation with a friend, warm and engaging… entirely genuine. I loved coming upon the poetry interspersed within the pages of the book.
It felt like finding "sweet surprises" along the way, much like discovering wild- flowers when walking along a path."
– Linda Medhus, Dakota Boys & Girls Ranch Foundation
Part 1
The Lakes – Retirement
Journal Entries … pre & post 9/11
Grandma Pauline
Growing Up
Part 2
The Psychiatrist
Uncles, Aunts and Cousins
The Sidewalks of Carrington
Seventh Avenue
Farewell, North Dakota
GrownUp?
Part 3
The Girls and The Green Grasshopper
Westward Ho!
Carpet Baggers?
Hello, Fargo
Part 4
Part 5
Post Script
Rolling Through Traffic..
The Silver-haired Wine Sipper
Recipes
Time to put this memoir to bed
From Journal Entries … pre & post 9/11
October 6th, 2001… "Looking good"
"Co-dependents know how to look good," someone said this morn- ing at the AA/Al-Anon meeting. "They wear a mask of nobility."
I came home and put on some soup for lunch, these words still ringing in my ears.
Ouch! I thought. So that's it. I have not only worked at putting up the right appearance (the good show), I have also been praised, or at least acknowledged, for my long-suffering good will and patience. And if I work very hard at it and am very smart, I may even avoid the label of martyr. Maybe, most people won't see through the mask; only a few will discern the pitiful, confused mess that stews underneath, at the core. "Martyr." God, I hope not …
"

Dancing in the Kitchen

examines and reflects on a woman's life of parenting, caretaking, marriage and dealing with addiction – a good read!"

                     – Greg C., a longtime friend of Bill W.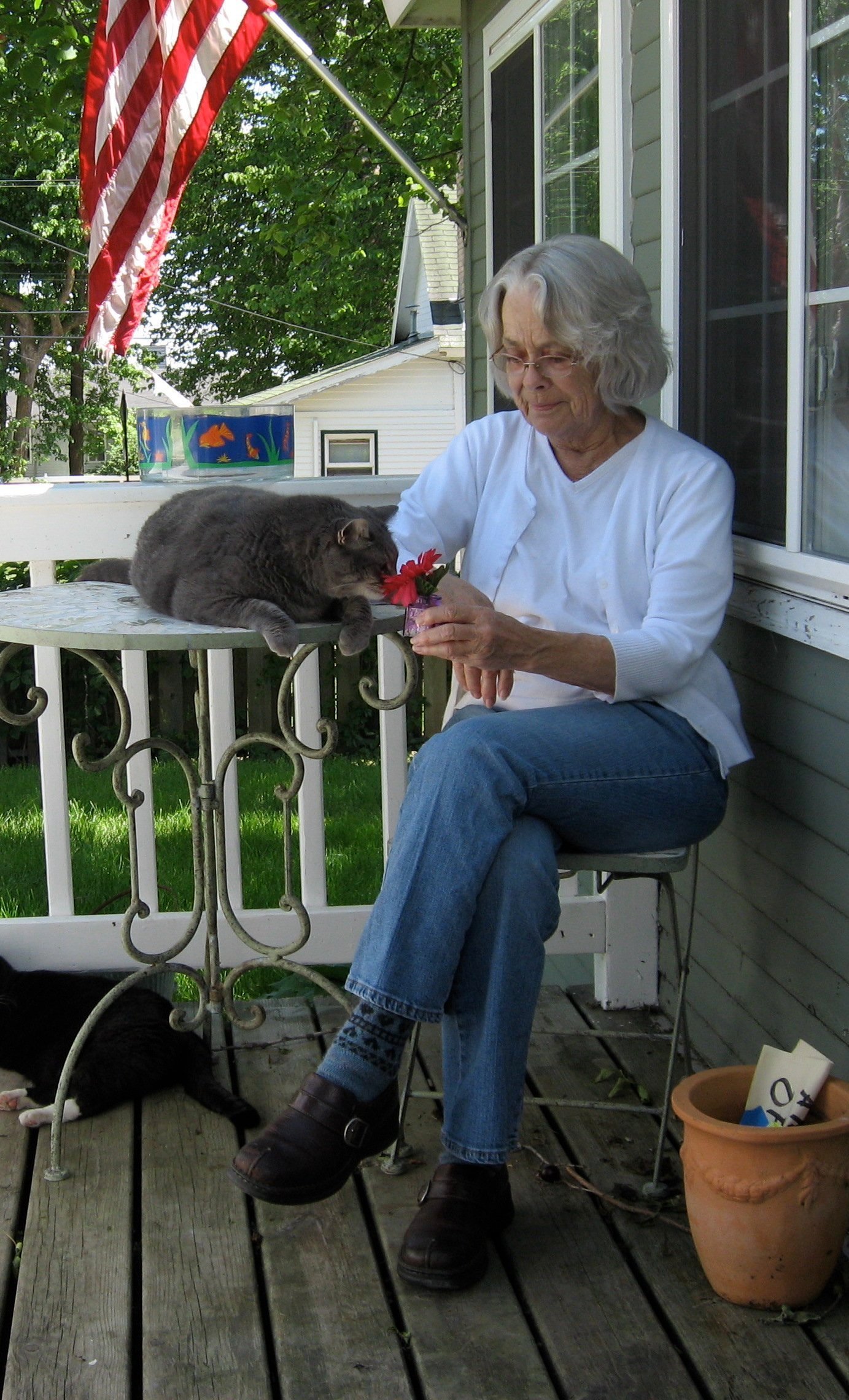 Janet Pratt is a writer, poet, former high school English teacher and guidance counselor.  She retired to "the lakes" in her 60s and proceeded to join a steel drum band and started galavanting around the area doing gigs with her friends!
She raised 3 kids – Kelly is the oldest (and bossiest 😊) and often tries to "coach" her mom.  Kari, is the artist in the family and her youngest, Steven, is on the east coast and is an aircraft crew chief for Boeing .
She talks about herself and her husband as "the poet and the pilot." Dick has been tinkering with airplanes, in one way or another all his life. He even remodeled their retirement home so he could re-build them in their basement. (Yes, the basement – that's another story.) Janet has always been indulgent of Dick' adventurous spirt… even when his adventures moved the family to a bayou in Mississippi to run a campground.  (Again, that's another story.)
Janet is the extremely responsible oldest of 3 kids to a single mom. The first ever Homecoming Queen in Fargo North Dakota. A star tennis player. And the best mom ever.
She lives in Detroit lakes Minnesota with Dick, Abby the cat and goes to lunch with their granddaughter Naomi every Friday.
(ps. This bio is a little embarrassing to mom, but every bit is true!
It was written by me, Kelly, Janet's oldest daughter!)