hang out with me
in the Village!
Let's get away from the cacophony and chaos of other online spaces.
I founded Athena Village to be an online community of
💜 heart-centered + 💫 soul-Led women passionate about
personal + professional growth.
Women who want to leave the
world a better place for our having been here.
Have you ever found yourself thinking, 
"I'd really love a great conversation
over a good cup of coffee (or tea!).

"
Me too.  So I created Athena Village with you – and me – in mind.
Many of us in the Village have our own businesses, some are working for others, some are retired, and some are just starting out.
What we all have in common is that we are women who wear many hats in our daily lives – we are multidimensional! And more and more of us are working from home. We love the freedom that offers, but it also has its drawbacks.
In the summer of 2019, I had a BFO* (blinding flash of the obvious!) which led me to reimagine my online community completely. My realization was that I wanted to serve more than just my clients; I wanted to serve more women. Reach farther, into communities around the world.  How amazing is that?! 
They say "it takes a village" so that's what I've created: an online Village – a destination for multidimensional women – and all the hats that they come with!
A place where women can hang out with others who, like me, live with purpose and crave community but we do not want:
to be bombarded with sales pitches
or be "tracked" and then pitched
or surrounded with negativity.
A private place where we feel, well, safe to be ourselves.
A place that welcomed each of our many dimensions.  Welcomed us as whole women who fulfill many roles, and wear many hats!  A values-driven space where we could be truly authentic.
Where we could have conversations, be curious, make discoveries, and create connections.
The result of that BFO is Athena Village.  I invite you to visit the Village.
Kelly Pratt,
Founder Athena Village
*(BFO: "Blinding Flash of the Obvious" thank you, Barb  Zuleger )
"Life is a dance between being 
SISTERED and SISTERING others."
– Glennon Doyle
We offer 3 choices of membership so you can choose the one that fits your life today.
All three levels – Sustaining, Sistered, and Sistering – access the same great membership benefits.
I'd love to have you join us… If you have any questions, you are welcome to reach out to me anytime.  Kelly (at) athenavillage.com
As a Villager, your membership helps us keep the lights on by covering the actual costs of providing The Village for you
Let us "Sister" you!  We've all been there, I know I have.
✨ Ask me about my "ring of fire" period!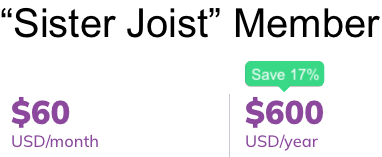 Become a SISTER JOIST and pay-it-forward. Your membership will support 2 members who need sistering.