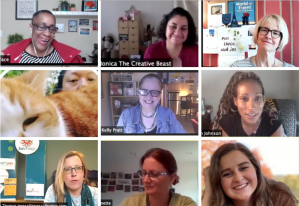 Community and connection are what we need.
Find the style that works best for you

I've always been a connector.

 At no time has this been more valuable than over the last year and a half.  Stated simply, since 2020, connecting with others has saved my sanity. Being able to connect face-to-face – even online – has kept me from, well, going to that place… you know the one, it's dark there, lonely and feels like there's no way out.
In fact, having several face-to-face connections each week, with new and old colleagues, family and friends has given me a sense of renewed purpose.  It's also confirmed that I'm on my "right path." That path being creating space for people to find community, make connections and to support one another in their ventures. My mentor and teacher, Martha Beck says that it's likely we've all…

"… embarked on a cycle of change (because transformation is happening to all of us at once). The bad news is that nothing feels stable anymore. The good news is that none of us are alone. Community and connection, paradoxically, are what we most need to follow our unique paths through the wild new world."
Community and connection.
I've also realized how critical it is to honor every person's own connecting style. I was able to connect with my 85 year old mom over Zoom.  We even completed her memoir that way.  But My best friend wasn't having any of it.  She would only talk on the phone.

Not everyone has embraced the Zoom-iverse like I did.  I found having one-on-one conversations or group events on Zoom very enjoyable and energizing.  Others not-so-much.  They found it annoying and less than satisfying and in fact, quite exhausting.
Many are now craving in-person connections where they can hug and shake hands. I love a fun coffee-shop meeting, that is, with my friends.  But after a year or more of online networking, I've decided that I really prefer networking online. It gives me more freedom to take notes, to followup and saves a lot of time.

The bottom line is, figure out how YOU prefer to connect, and seek out ways to do more of that.
What's your connection style??  What gives you energy? What makes your life easier?  What feeds your soul?
We're having these conversations in Athena Village.  Join us! (first month is free!)