Working Together
I fit how I work with how you do YOUR best work.
Do you thrive in a one-2-one situation?  With the support of a group or a community? Or maybe you're a DIY person who, with the right tools, self paced course or products, reaches your gets where you want to go?
Or – it changes!! Best kept secret is that we are not ALWAYS one thing!
What do you need TODAY? Find your best fit below.
How do you do your best work?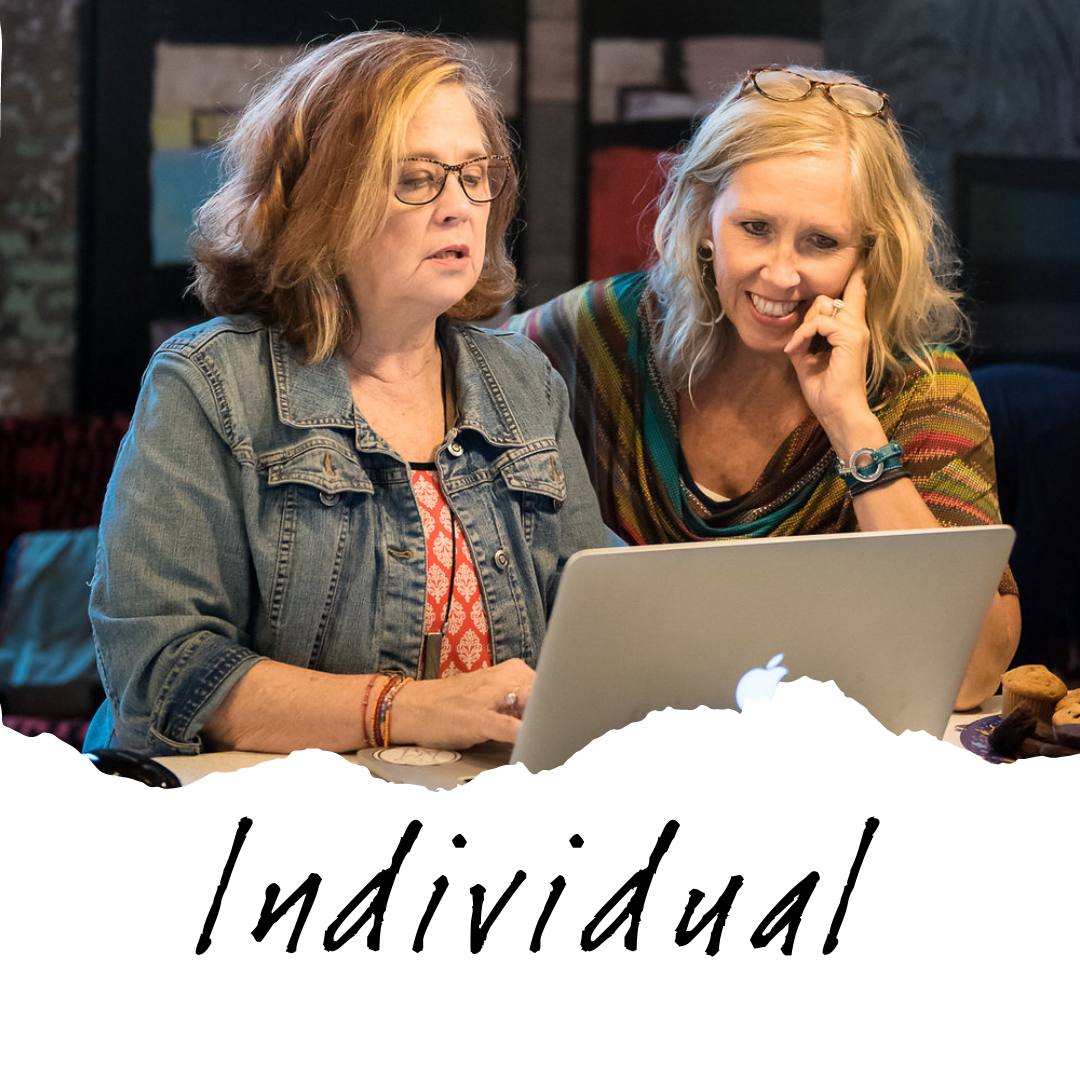 Blank
Your Unique Work Style. Start here.
Schedule a UNIQUE STYLE session with me – you'll take the KOLBE A™ INDEX We'll see where you're working "against your grain." and figure out what you can do to create harmony in your world. 
In 90 minutes we'll identify your M.O. (modus operandi) and discover who you are when allowing your true nature to shine.  I learned mine when studying to become a Wayfinder Coach with Martha Beck in 2008 and never looked back. 
I felt like someone looked into my soul as said
"I see you!! You're not a procrastinator, you're a percolator and that's how you do your best work!"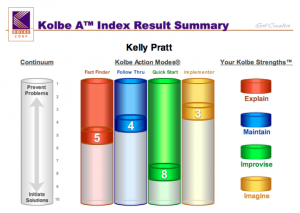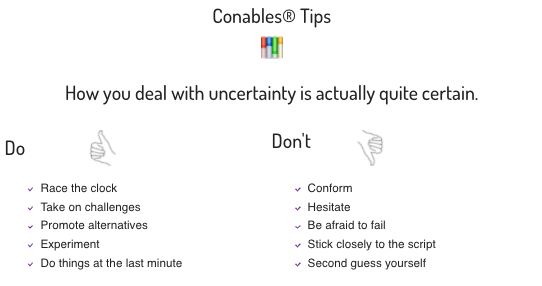 That's how I've always worked!  Last minute, "launch and learn," doing things differently and experimenting.  But I'd always tried to do it "right" the way everyone else did… and created anxiety like you wouldn't believe.  This assessment SAW ME THE WAY I WAS AT MY CORE!
The Kolbe A Index (Instinct Test) is unique. It does not measure intelligence, personality or social style. It measures the instinctive ways you take action when you strive. When working with our instinctive "true nature" you'll find yourself being more productive, less stressed, and unlocking your love of your at work and your life… that's what I strive to help you to create – a life of Harmony!!
NEXT STEP: Schedule a UNIQUE WORK STYLE session with me.  Let's get you some harmony in your life!
$230 for 90 minute session (includes the $55 Kolbe A™ Assessment)
Wayfinder Coaching
Let's determine what's essential to you  & identify your goals & dreams.  Then we'll plot a course to get there.
Whether it's Life or Business, we'll do some "wayfinding" to determine your next best steps.
Click here to Schedule a Curiosity Session.
Community Creators
Community building – online and in the real world – feels magical and can have magical results.
But it's also a very linear process – if you don't do it step by step, you make more work for yourself in the long run.  I know, because, I'm a "launch and learn" kind of builder who's learned her lessons!
I've been building communities for many years, online since 2016, and I'd love to be your guide.
Click here to learn more about what we can do together, what I've done with others and about my own community and the Community Creators Studio that I host there.
Talk2Think - A Single Session
Sometimes you just need to talk it out!  You have a great💡idea but you need someone who will  "talk-2-think" it through with you!
These sessions are just that, one-off sessions to talk through an idea, get something done, or to use however you need.  Let's do that! $175 for 1-1/2 hours.
blank
So Do It! Salons
…for making sh!t happen 😉
I watched too many women put their own ideas dreams and selves on the back burner… these salons are designed to give yourselves permission and support to do what you say you're going to do! more information here
So Do It! 💡 Idea Salon
Monthly So Do It! 💡 Idea Salon. Free to Athena Village members.  Join us to play with ideas.  You never know where these discussions lead!
So. Much. Fun!
blank
Athena Village
Athena Village where I hang out.  And I'd like to invite  you to join me there,
This is where I host the So Do It! Circle of past and future clients and a monthly free So Do It! Drop In Salon.  It's a FB group without the chaos or "big brother" spies.
It's a women-led collective of artists, authors, coaches, healers, makers, teachers, and collaborative-minded entrepreneurs who want to gather in community, build heartfelt connections and contribute to meaningful conversation.
We are some of the best, most inspiring, forward thinking, fun and creative women leaders together in one place.
Should probably add humble to the list 😉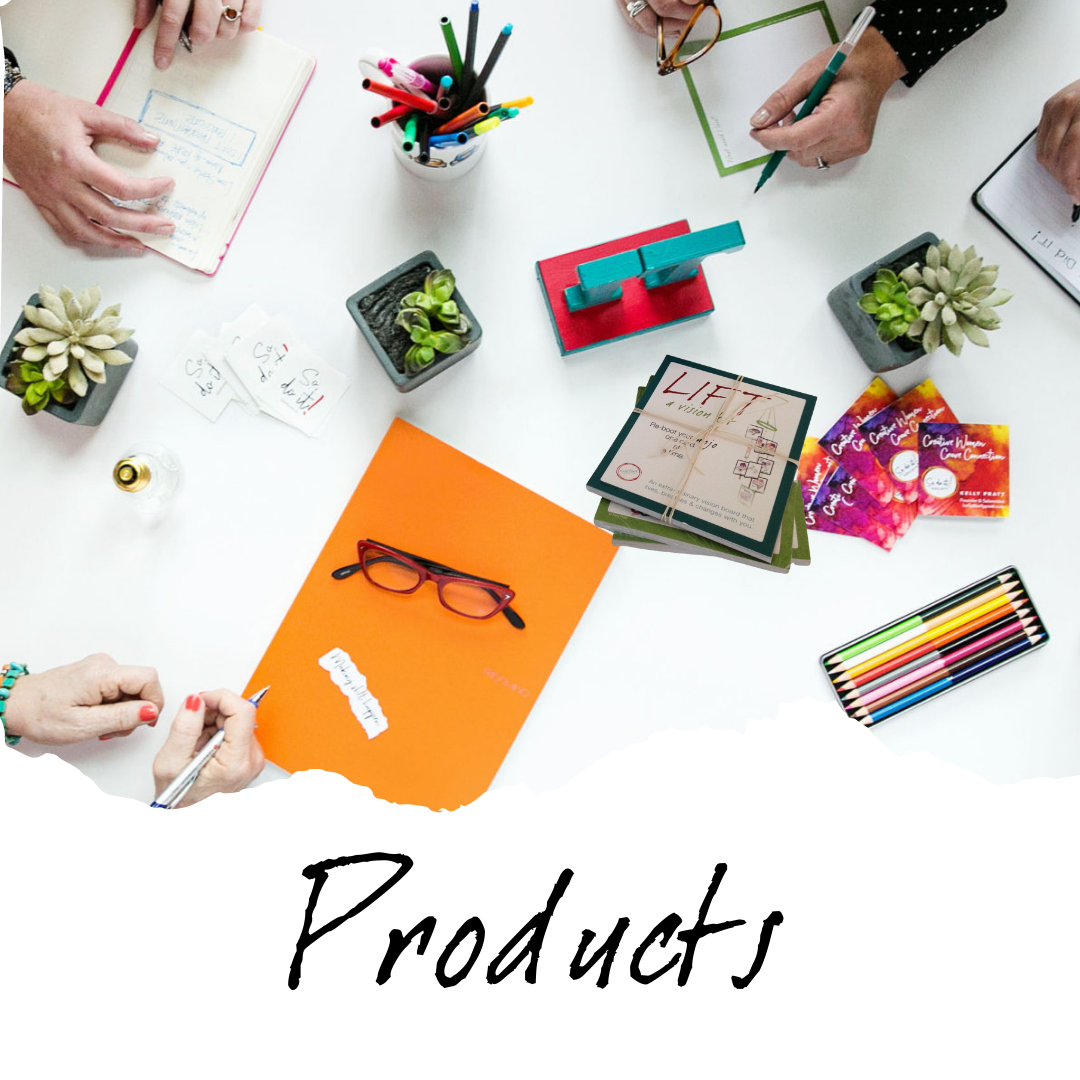 blank
Planners + Journals
The So, do it! Planners for Making Sh!t Happen
Pick one that works like you do:We want a planner that works the way we do. So I've given you choices.
• 9 Cover Designs
• Undated 7.5" x 9.5" Spiral Bound
• 3 different Weekly layouts
: an open design
: or a more traditional schedule design
: or pop over to the next listing to see the 4 page weekly spread
One TRIMESTER at a time (4 months – 17 weeks)
(a word about Trimesters vs Quarters. I've found that my and my clients lives work in a circular way – September – December; January- April; May-August… So, we're revamping our calendars to fit our lives!)
• Or a Full year
• Undated Planners so you can start anytime
• 7.5" x 9.5"
• Spiral Bound
Each planner has:
• 56 Numbered pages
• ANNUAL SO, DO IT! MATRIX for planning out your year
• BLANK (DOTTED) PAGES for Mapping out your year
• TRIMESTER CALENDAR starting on Monday, designed with NO GAPS between months. This allows you to focus on the Trimester as a whole.
• Each week is numbered with corresponding page numbers for i
• WEEKLY ACTION MATRIX facing the Trimester Calendar. This allows you to plan out your action items and then plug them into your schedule.
• Every WEEK is a 2 page spread with space to take notes.
You choose the Weekly Spread design that works best for you.
• Weeks are numbered and correspond to Trimester Calendar
• MAKE SH!T HAPPEN section of dotted pages to take notes, make lists, mind map or do whatever you want.
• Finally, the last page is the IMPORTANT STUFF INDEX. Use this to create an index of where you've written down the things you want to refer to later…
• Printed in the USA by a Woman Owned Company for a Woman Owned Company.
Lift Visioning Kit
LIFT™ kit is a guided kit to create your own extra-ordinary vision board. It walks you through the process – with writing prompts and ideas…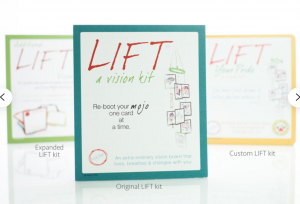 And it's changeable as you reach your goals and dreams.
Definition: mo•bile: capable of moving or flowing freely, changeable
A deck of cards, a collection of words and pictures, a fluttering of leaves on a tree or pieces on a mobile…
Let's take the vision one thought at a time, in words – say, on the front of a card…and in pictures, say on the back.
And display them in a way that works for you.
See the Vision Kit in action: https://vimeo.com/240526460
Trimester Wall Calendar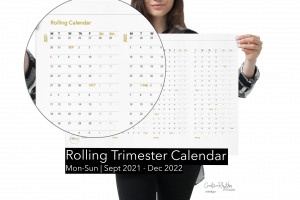 An 18 Month wall calendar with no breaks.  It always bugged me when a month ended in the middle of a week.
And it bugs me when my life moves from Monday – Sunday and the calendars start on Sunday.
So, I created a calendar that works for me… and if it works for you, well Hey! cool!
It's a wall calendar, divided into "trimester" (also the way my life revolves 🤓  )
Let me know what you think!
Creative Rhythm Studio on Etsy
For now, my products are on Etsy… click here to check them out!
Kelly is a master at cutting through the clutter and getting to what matters most to propel your dream or business, offering an inspired practical path to its success. Put Kelly's experience, creativity and persistence to work for you.
Jackie Jenson, Author Jon and the Soggy Leaf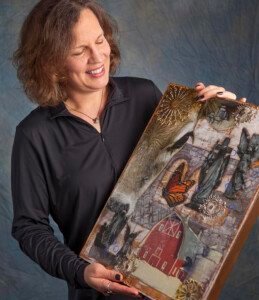 Kelly's"Ignite" sessions provide a positive forum for lively, yet relevant discussion with like-minded, creative-types and provided a standard of accountability for setting and reaching my artistic goals. Kelly is a Creative Catalyst indeed!
The resources Kelly brought to the Salon - a real time conversation with Cindy at Vervante.com, for example, gave me a new source for products for my business. I would not have this source without the Salon. Thank you!
Julie Hellwich, Founder @ SmartWomenCompany
It helps me to talk-2-think.  What about you?