Description
What's Your Style?  Let's discover who you are when allowing your true nature to shine. Your natural work style. I learned mine when studying to become a Wayfinder Coach with Martha Beck in 2008 and never looked back.
I felt like someone looked into my soul as said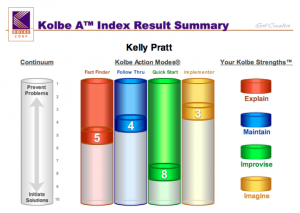 "I see you!! You're not a procrastinator, you're a percolator and that's how you do your best work!"

That's how I've always worked! Last minute, "launch and learn," doing things differently and experimenting. But i'd always tried to do it "right" the way everyone else did… and created anxiety like you wouldn't believe. This assessment SAW ME THE WAY I WAS AT MY CORE!
The Kolbe A Index (Instinct Test) is unique. It does not measure intelligence, personality or social style. It measures the instinctive ways you take action when you strive. When working with our instinctive "true nature" you'll find yourself being more productive, less stressed, and unlocking your love of your at work and your life… that's what I strive to help you to create – a life of Harmony!